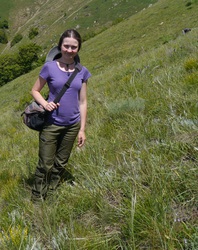 Wissenschaftliche Mitarbeiterin

Bis 03/2017 beim Lehrstuhl für Pflanzenökologie
e-Mail: iwona.dembicz(at)uni-bayreuth.de, iwodem(at)op.pl
My research interests include plant ecology, biogeography and nature conservation. I defended my MSc thesis in 2011. I am a PhD student at the University of Warsaw and currently I am also working a as research associate at the University of Bayreuth, where I am finishing my PhD project focused on vascular plants diversity patterns within steppe enclaves of Southern Ukraine. Besides, I have been involved in several projects concerning active conservation and restoration of dry grasslands in Poland, as well as in biodiversity inventories and monitoring in Poland and in Belarus. I actively participated and co-organized five Eurasian Dry Grassland Group Research Expeditions/Field Workshops. I greatly contributed in statistical analyses and preparation of one of the already published papers based on data collected with standardized methodology of the EDGG field pulses.
Research interest:
• Plant Ecology
• Nature Conservation
• Habitat Fragmentation
• Dry Grasslands
• Population Genetics
• Vegetation Monitoring
• Rare Species
Acic, S; Dengler, J; Biurrun, I; Becker, T; Becker, U; Berastegi, A; Boch, S; Dembicz, I; García-Mijangos, I; Guarino, R; Janisova, M; Jandt, U; Magnes, M; Marcenò, C; Palpurina, S; Polyakova, MA; Vasheniak, Y; Vassilev, K; Velev, N; Stojanovic, V; Lazarevic, P; Krstivojevic Cuk, M; Dajic Stevanovic, Z: Biodiversity patterns of dry grasslands at the meeting point of Central Europe and the Balkans: Impressions and first results from the 9th EDGG Field Workshop in Serbia, Bulletin of the Eurasian Dry Grassland Group, 34, 19-31 (2017), doi:10.21570/EDGG.Bull.34.19‐31
Polyakova, MA; Dembicz, I; Becker, T; Becker, U; Demina, ON; Ermakov, N; Filibeck, G; Guarino, R; Janisova, M; Jaunatre, R; Kozub, Ł; Steinbauer, M; Suzuki, K; Dengler, J: Scale- and taxon-dependent patterns of plant diversity in steppes of Khakassia, South Siberia (Russia), Biodiversity and Conservation, 25, 2251-2273 (2016), doi:10.1007/s10531-016-1093-y [Link] -- Details
Dengler, J; Biurrun, I; Apostolova, I; Baumann, E; Becker, T; Berastegi, A; Boch, S; Cancellieri, L; Dembicz, I; Didukh, YP; Dolnik, C; Ermakov, N; Filibeck, G; Garcia-Mijangos, I; del Galdo, GG; Guarino, R; Janišová, M; Jaunatre, R; Jensen, K; Jeschke, M; Kącki, Z; Kozub, Ł; Kuzemko, AA; Löbel, S; Pedashenko, H; Polyakova, MA; Ruprecht, E; Szabó, A; Vassilev, K; Velev, N; Weiser, F: Scale-dependent plant diversity in Palaearctic grasslands: a comparative overview, Bulletin of the Eurasian Dry Grassland Group, 31, 12-26 (2016) [Link] -- Details
Dengler, J; Boch, S; Filibeck, G; Chiarucci, A; Dembicz, I; Guarino, R; Henneberg, B; Janisova, M; Marcenò, C; Naqinezhad, A; Polchaninova, N,Y,; Vassilev, K; Biurrun, I: Assessing plant diversity and composition in grasslands across spatial scales: the standardised EDGG sampling methodology, , 32, 13-30 (2016) [Link]

Biurrun, I; García-Mijangos, I; Berastegi, A; Ambarli, D; Dembicz, I; Filibeck, G; Jandt, U; Janišová, M; Jaunatre, R; Kącki, Z; Kuzemko, AA; Pedashenko, H; Polchaninova, N,Y,; Dengler, J: Diversity of dry grasslands in Navarre (Spain): Experiences from the 7th EDGG Field Workshop, 15–24 June 2014., Bulletin of the European Dry Grassland Group, 24/25, 4–21 (2014) -- Details
Janišová, M; Becker, U; Demina, ON; Dembicz, I; Ermakov, N; Filibeck, G; Frank, D; Guarino, R; Jaunatre, R; Kozub, Ł; Polyakova, MA; Suzuki, K; Dengler, J: Steppes of Southern Siberia – Experiences from the 6th EDGG Research Expedition to Khakassia, Russia (22 July – 1 August 2013)., Bulletin of the European Dry Grassland Group, 19/20, 31–48 (2013) -- Details

Guarino, R; Becker, T; Dembicz, I; Kacki, Z; Kozub, Ł; Rejžek, M; Dengler, J: Impressions from the 4th EDGG Research Expedition to Sicily: community composition and diversity of Mediterranean grasslands., Bulletin of the European Dry Grassland Group, 15, 12–22 (2012) -- Details


Department of Plant Ecology and Environmental Conservation, Institute of Botany, Faculty of Biology, University of Warsaw, Address: ul. Żwirki i Wigury 101, 02-089 Warsaw, Poland